GLOBAL KYONGDONG

GLOBAL KDEC

Infrastructure Division
Road & Highway Department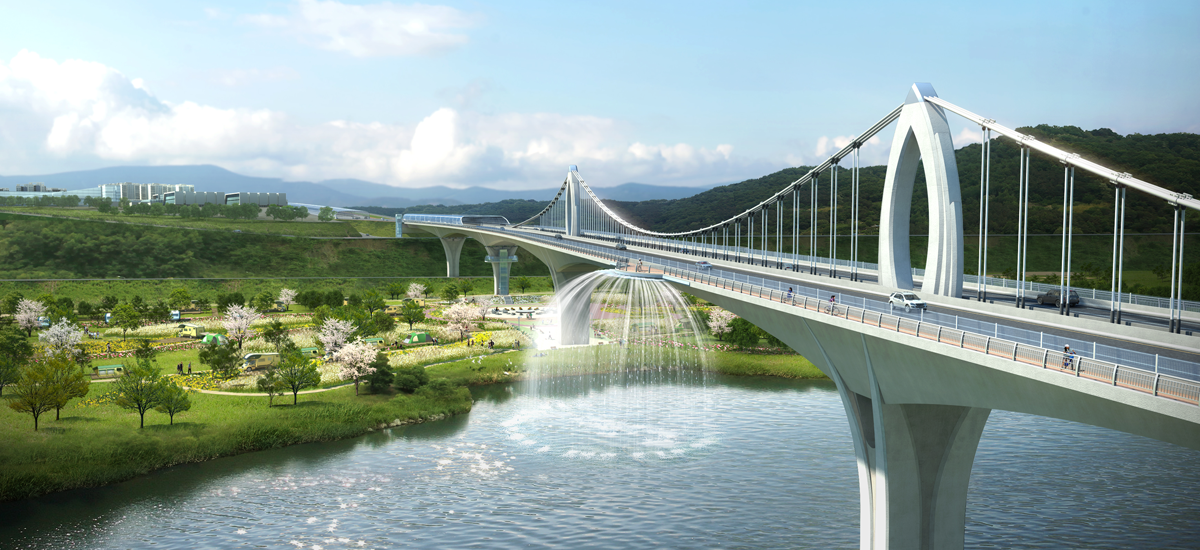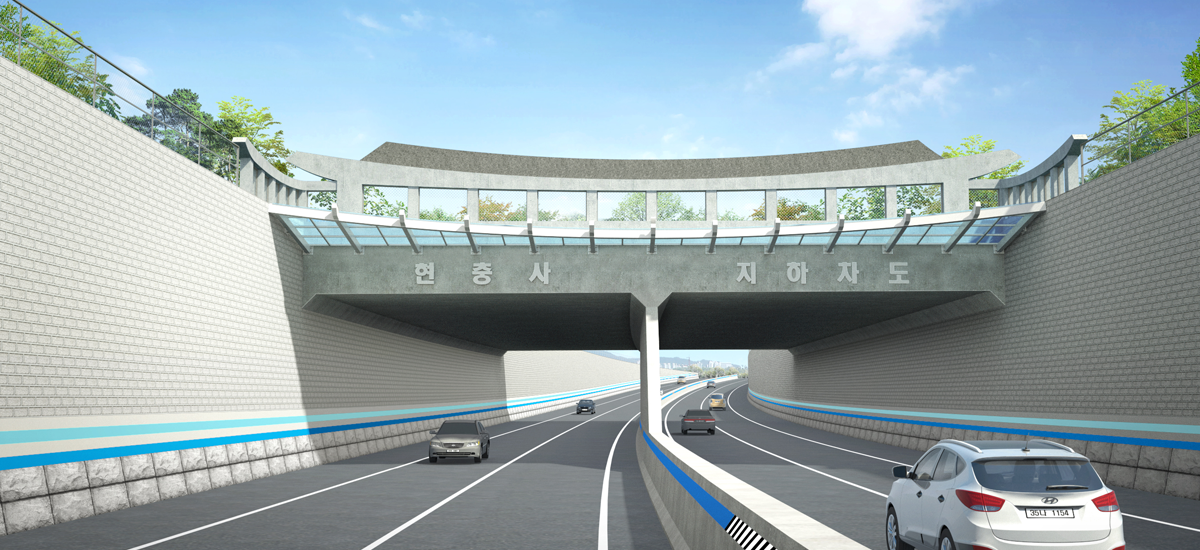 Dangjin - Cheonan (Asan - Cheonan) Highway Construction Project Supplementary Design Lot 2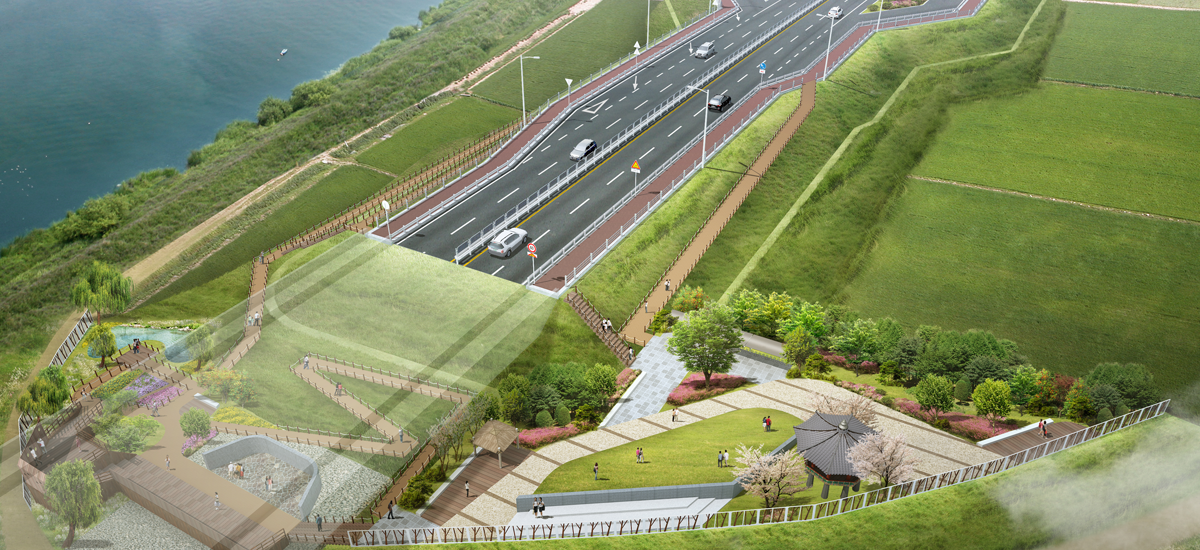 Dangjin - Cheonan (Asan - Cheonan) Highway Construction Project Supplementary Design Lot 2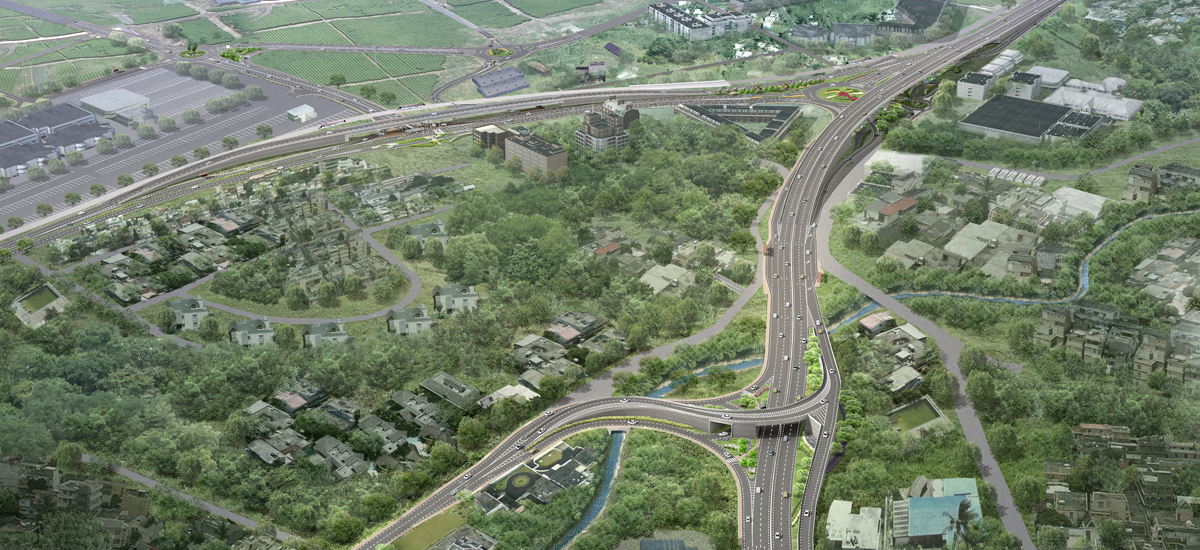 Design, Supervision and Project Management for Construction of Grade Separated Junctions at Pont Fer/Jumbo/Valentina Roundabouts and and A1-M1 link Road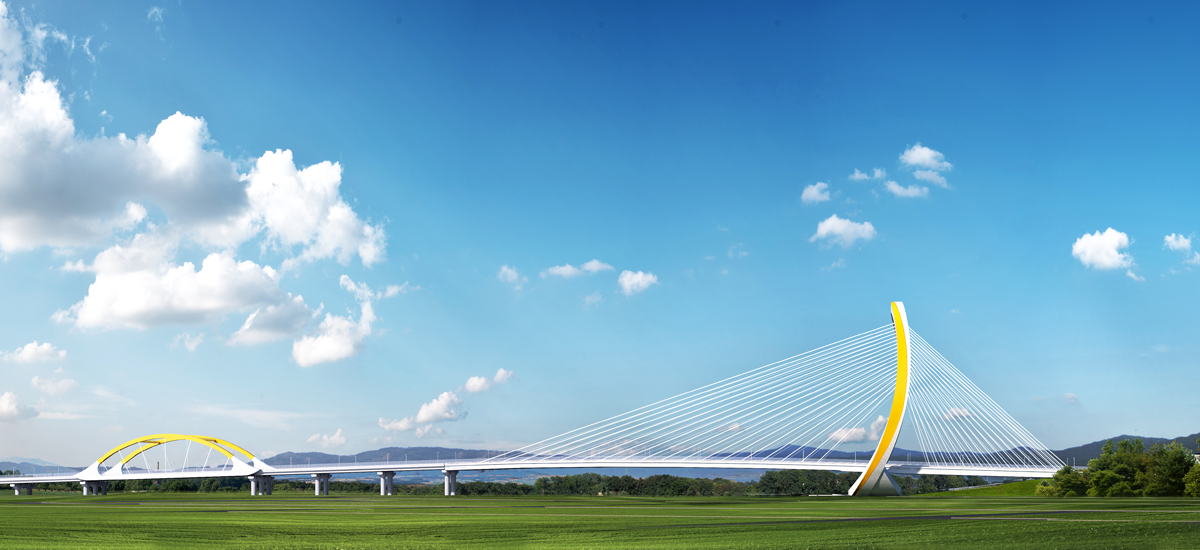 Technical Proposal for Construction Project of Line 1_117 of MTV at City Hall
"With cutting edge technology, we design the aorta of the country."
As the core business of the company, Road and Highway Department has been achieved outstanding outcomes conducting professional services both in and out of the countries.

We provides the highest quality engineering services both for Government-financed infrastructure projects and PPP projects especially like roads and highways and bridges that are requiring total solution, value engineering, life cycle and financial analysis. We're trying to disseminate our excellency and originality to global markets as well as Algeria, Tanzania, Uganda, and Myanmar.

To prepare the era of 4th Industrial Revolution, Road and Highway Department will keep trying to provide differentiated engineering services to the Client and success of the construction projects.
Business Fields
· Preliminary feasibility study, feasibility study, basic plan, basic and detailed engineering design for highway, urban highway, national road, rural road, urban planning road, etc.
· T/K, Technical Proposal, Private Partnership invested Road, and Overseas Road Planning and Engineering Design
· Feasibility study, basic plan, basic and detailed engineering design for airport facilities and auxiliary facilities
· Planning and design of various auxiliary facilities such as IC, JCT, and rest areas
Major Project
Korea Expressway Corporation

Detailed Engineering Design of Donghae Expressway (Jumunjin ~ Sokcho) Construction (Lot 5)

Detailed Engineering Design of Jeonju and Gwangyang (Soonchon) Highway Construction (Lot 15)

Detailed Engineering Design of Daejeon-Dangjin Expressway construction

Detailed Engineering Design of the Longitudinal Line Adjustment of Expressway No. 30 (Lot 8 and 9)

Detailed Engineering Design of 88 Olympic Highway (Damyang ~ Seongsan) Extension Project (Lot 5)

Detailed Engineering Design of the East Hongcheon-Yangyang Expressway (Lot 8) Construction Project (Lot 8)

Detailed Engineering Design of Ulsan ~ Pohang Expressway (Lot 1) Construction

Basic Engineering Design of Hamyang-Ulsan (Hamyang-Milyang) Highway (Lot 10, 12)

Technical Advisory Consultancy Service for the Construction of Incheon Bridge connecting Road

Detailed Engineering Design of Sangju ~ Yeongdeok road Construction (Lot 3, 5)

Feasibility Study and Basic Engineering Design of (Nami~Cheonan) Gyeongbu Expressway (Lot 1) Construction.

Detailed Engineering Design of Yangjae ~ Giheung of Gyeongbu Line Lot 3 (Pangyo-Yangjae) expansion project

Basic and Detailed Engineering Design of Busan outer-ring expressway Construction (Lot 5)

Detailed Engineering Design of Saemangeum ~ Jeonju Expressway (Lot 5)

Detailed Engineering Design of Yangpyeong ~ Icheon Expressway Construction (Lot 2)

Basic and Detailed Engineering Design of Sejong ~ Pocheon (Sejong ~ Ansung) Expressway Construction Basic (Lot 4)
Korea Land & Housing Corporation

Survey & Engineering Design of the adjacent Road in the Gyoha district, Paju City

Detailed Engineering Design of Dongtan ~ Suwon Road Construction

Survey & Engineering Design of Yeongdeok ~ Osan Metropolitan road Construction (Local road No. 311)

Survey & Engineering Design of the Detour road to Local road No. 57

Survey & Engineering Design of Yangsan Mulgeum district connecting Road

Survey & Engineering Design of adjacent road construction in Hyangnam District, Hwaseong City

Feasibility Study of the East-West arterial road in Hwaseong City

Survey & Engineering Design of the adjacent road in Gimpo New Town

Basic and Detailed Engineering Design of Paju New Town ~ Ilsan national road

Basic and Detailed Engineering Design of Road and Tan-River Maintenance Works in Yongin City

Survey & Engineering Design of the Yangju New Town (Okjeong District)
Seoul Regional Land Management Agency

Detailed Engineering Design of Woojung-Jangan Road Expansion and Pavement

Detailed Engineering Design of detour national road in Goyang City

Basic & Detailed Engineering Design of the Jinjeop-Naechon (Lot 2) Road Construction
Daejeon Regional Land Management Agency

Detailed Engineering Design of Shinpung ~ Woosung Road Expansion and pavement

Detailed Engineering Design of Jincheon ~ Doogyori Road Expansion and pavement

Detailed Engineering Design of Cheongyang and Woosung (Lot 1) Road Construction

Basic Engineering Design of Boryeong Hwasan ~ Cheongyang Road Construction

Detailed Engineering Design of Chungcheong in-land expressway (Lot 2-2) construction

Detailed Engineering Design of Yeongdong ~ Boeun Road Construction
Wonju Regional Land Management Agency

Detailed Engineering Design of Deokpo ~ ShinDong Road Expansion and pavement

Detailed Engineering Design of Inje-Yangyang (1) flood recovery work

Detailed Engineering Design of Omijae Tunnel Road Construction

Basic and Detailed Engineering Design of national road No. 31 (Banglim-Jangpyeong 2) in Pyeongchang

Detailed Engineering Design of national road No. 5 (Chuncheon-Hwacheon 2) Road Construction

Basic and Detailed Engineering Design of National Road no. 88 (Dogye ~ Yeongwol)
Iksan Regional Land Management Agency

Detailed Engineering Design of Jeongeup and Wondeok (Lot 1) road construction

Detailed Engineering Design of Muju-Sulcheon 2 Road Expansion

Detailed Engineering Design of Gunjangsandan Coastal Road

Detailed Engineering Design of Gochang Songseong ~ Gochang Gojang Road Expansion

Survey and Maintenance service of utility pole adjacent to national road
Busan Regional Land Management Agency

Detailed Engineering Design of Nammyeon ~ Yakmok road 4 lanes Expansion construction

Detailed Engineering Design of Joosang ~ Hangiri 2 national road construction

Basic and Detailed Engineering Design of regional road no. 58 (Songjeong-Mundong 1) Construction Project aided by the Government

Detailed Engineering Design of National road no. 60 (Hamanchilbuk ~ Changwonbukmyeon)

Detailed Engineering Design of Henghae ~ Kigye 1 National Road Construction

Basic and Detailed Engineering Design of Gumi ~ Gunwi IC National Road Construction

Detailed Engineering Design of Maejeon ~ Geoncheon 3 National Road Construction
Multifunctional Administrative City

Basic and Detailed Engineering Design of Administrative City ~ Jeongan IC (Lot 2) Road Construction

A Study on the Measures for the Improvement of Broad Traffic System

Basic and Detailed Engineering Design of Haengbok City~Osong Station Broad Traffic System Facility Phase I
Seoul Metropolitan Infrastructure Division

Basic and Detailed Engineering Design of the (Nambu Ring ~ Ojeon road) 3-way Intersection

Feasibility Study and Basic Plan of the Underground of Dongbu arterial road
Gyeonggi Construction Management Division

Detailed Engineering Design of Bulhyeon ~ Sinjang Road Expansion and Pavement

Detailed Engineering Design of (Jinwi Station ~ Osan) Road

Detailed Engineering Design of Wolsan ~ Gosong Road Expansion and Pavement
Chungcheongnam-do

Basic and Detailed Engineering Design of Hongseong ~ Deoksan 4 lanes Road Expansion and Pavement

Basic and Detailed Engineering Design of 4 lanes Byeongcheon ~ Ochang Road Expansion and Pavement

Basic and Detailed Engineering Design of the Gaya Mountain ring Road

Basic Engineering Design of Hongseong Northern detour road (Dae-daero 2-1) construction

Establishment of Road Name and Building Number in Taean County
DAEWOO ENGINEERING & CONSTRUCTION Co., Ltd.

Detailed Engineering Design of the Yeonmu planning Road in Nonsan City

Construction of Eco-Highway in Gimpo Yangchon District T/K
Shindonga Construction Co., Ltd.

Alternative Design Service of Sanghyun IC in Yongin ~ Seoul section
SK E&C Co., Ltd.

T/K for the Geumgang 1st Bridge construction in the Multifunctional Administrative City

T/K for the 5th Living Area and Golden Noel Bridge in the Multifunctional Administrative City
Keangnam Enterprises, Ltd.

T/K for the national road no. 1 (Lot 1) in the Multifunctional Administrative City
Gyeongsu Expressway Co., Ltd.

Detailed Engineering Design of Yongin ~ Seoul Expressway Private Investment Project
Nam Kwang Engineering & Construction Co., Ltd.

Technical advisory of Line 1-117 of MTV Sihwa Construction Project
Overseas Projects

Basic & Detailed Engineering Design for Highland Bypass Project (220 km) in Algeria

Basic & Detailed Engineering Design for Bejaia Expressway Project (100 km) in Algeria

Basic & Detailed Engineering Design for Skikda Expressway Project (40 km) in Algeria

Feasibility Study, Basic & Detailed engineering design of the Intersection between NR No.44 and le 20Aout 55 Road in Algeria

Preliminary Study, Basic & Detailed Design for Link Road of Benisaf Commercial Zone and East-West Expressway in Algeria

Design review and Supervision of the Road Connecting East-West Expressway ~ Bejaia Port on 100 km in Algeria

Design review and Supervision of the Connecting Highway East-West Expressway ~ Ghazaouet Port on 13 km in Algeria

Design review and Supervision of Connecting Highway Mascara ~ East-West Expressway (24 km) in Algeria

Detailed Engineering Design and Preparation of Tender Documents for Upgrading of Loliondo-Mto wa Mbu Road (213 km) in Tanzania

Detailed Engineering Design and Preparation of Tender Documents for Rehabilitation of Mafinga-Igawa Road (142 km) in Tanzania

Design of Bus Rapid Transit System Phase 2 and 3 in Dar es Salaam (42.9 km) in Tanzania

Feasibility Study for Salender Bridge Construction in Dar es Salaam in Tanzania (Korea Eximbank)

Preparation of Federal Network Master Plan in Ethiopia

Design, Supervision and Project Management for Construction of Grade Separated Junctions at Pont Fer/ Jumbo/ Valentina Roundabouts and A1-M1 link Road in Mauritius

Feasibility Study of Cote d'Ivoire Korogo-Nier Road (110 km) in Cote d'Ivoire

Detailed Engineering Design for the Access Road of Upper Arun Hydropower Project in Nepal

Feasibility Study for Infrastructure Development in Industrial Complex Project in Myanmar

Technical Consultant Yangon Elevated Expressway PPP Project (for Feasibility Study and Preparation of Tender in Myanmar

Pre-Feasibility Study for Yangon ? Mandalay Expressway Improvement Project in Myanmar

Feasibility Study for Yangon-Ngayokekaung Expressway Improvement Project in Myanmar